B-TRNSFRMD is happy to announce that we are now officially a Certified Talkdesk Channel Partner. Talkdesk is an end-to-end cloud-native customer experience solution that combines enterprise performance with consumer simplicity on a single unified platform. They are rated as Leader by Gartner in the 2019 CCaaS MQ and are the only player to offer 100% uptime SLA guarantee!
With our integrated digital design, process innovation and implementation framework for deploying Talkdesk CX platform, customers can future-proof their contact center in less than 12 weeks!
The Talkdesk CX platform enables global enterprises to leverage Cloud and AI Automation technologies for high operational agility, elastic capability, easy agent provisioning, high reliability and security voice capabilities. It offers key CX capabilities including Customer Engagement (Voice, ACD, IVR, Outbound Dialer, Omni-channel, Self-Service); Workforce Engagement (Agent Desktop, Mobile Agent Workforce Mgmt., Quality Mgmt., Performance Mgmt., Learning Mgmt.); Enterprise Collaboration; Virtual Assistants, Analytics and Reporting Dashboards.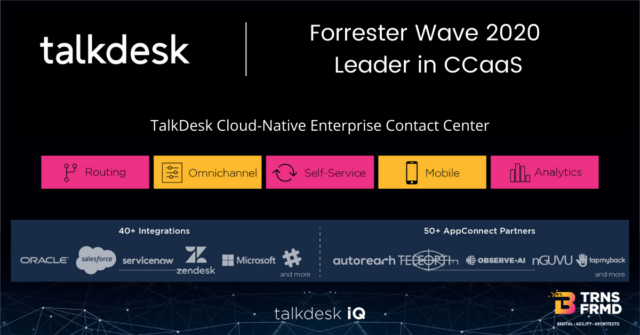 Learn More about Talkdesk in the 2020 Forrester Wave for CCaaS.
Customers choose Talkdesk for the following benefits and differentiators:
Experienced over 15% increase in agent productivity and associated reduction in interaction costs
Unified platform with the broadest list of cloud-native functionality. When combined with the AppConnect marketplace, customers have access to some of the leading applications for customer experience
Built on the concept of installation and configuration rather than on-prem deployment. More than 80+ integrations are prebuilt using APIs and webhooks. Built-in integrations for leading CRM and Service-desk software including ServiceNow, Salesforce, and Zendesk.
Deployed for low-code administration- to enable clicks not code. Business teams can manage the platform with minimal IT dependencies and maintain flexibility and agility in uncertain business demand environments.
• iQ Artificial intelligence capabilities allow customers to take advantage of intelligent automation services, assistants, voice analytics and drive operational efficiencies at scale.
Implement management of a metric oriented customer experience culture. The platform tracks more than 900 data points about the customer interactions and contact center operations on its platform.
Secure, reliable, and enterprise-class platform with more than 30 certifications including HIPPAA, SOC and PCI-DSS.
As a certified channel partner, B-TRNSFRMD offers end-to-end Digital CX solutions tailored to the Talkdesk Platform including omni-channel enablement, Cloud contact center deployment, Customer Support transformation. Our focus on delivering business impact with the fastest time-to-value is backed by a cross-functional team of experienced consultants.
We are an independent consulting firm that works with leading mid-market and large enterprises globally on agile transformations for Digital CX including Customer Support, Contact Center and Service management using SaaS, Intelligent Automation and AI. To learn more about how we can help move your Contact Center to the cloud, click here to schedule a call!