BAYADA Home Health Care is a leading provider of clinical and personal care support services to clients in their own homes. As the demand for quality home health care services grew, BAYADA faced the challenge of scaling their operations while maintaining exceptional service levels and managing costs effectively.
THE CHALLENGE
With rapid growth came the need for BAYADA to enhance their contact center operations to manage the increased volume of calls and emails efficiently. The main challenges were to:
Reduce average speed of answer (ASA) and abandon rates.
Improve service levels for both phone and email support.
Decrease queue hold times.
Control operational costs related to call and email servicing.
THE SOLUTION
BAYADA implemented a suite of NICE CXone solutions to tackle their challenges: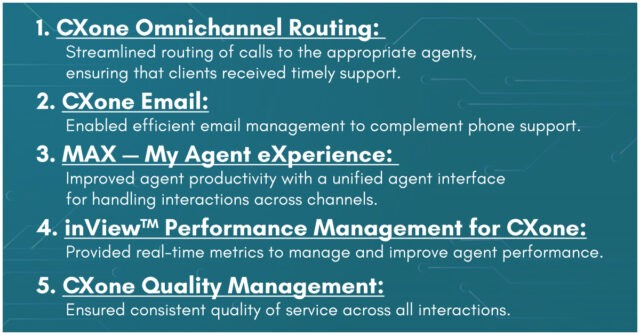 RESULTS ACHIEVED
The integration of NICE CXone solutions resulted in remarkable improvements across all key performance indicators:
★   97% decrease in average speed of answer
★   87% decrease in abandon rate
★   70% increase in email service levels
★   50% decrease in queue hold times
★   34% increase in phone service levels
★   25% cost reduction for servicing calls
★   15% cost reduction for servicing emails
CLIENT TESTIMONIAL
Martin Jones, Director of Contact Center Operations at BAYADA Home Health Care, lauded the NICE CXone solutions:
"Our fast growth would be impossible to handle without CXone. It is the backbone of everything we do, and it has been integral to our success."
LOOKING AHEAD
BAYADA Home Health Care's decision to implement NICE CXone solutions has been pivotal in their ability to manage fast growth without sacrificing service quality or client satisfaction. With a significant improvement in operational metrics and cost savings, BAYADA has set a new standard for efficient and effective home health care support.
For further details on the case study, please contact us at [email protected] or visit our website.