Better Experiences and ROI with Composable CX
Utilizing the Genesys Cloud CX™ platform, the Company Nurse leads with technology. Company Nurse has achieved a competitive edge by leveraging its all-in-one capabilities and API integrations. This has enhanced consumer experience, increased efficiency, and resulted in a 269% ROI with a 4.8-month payback period.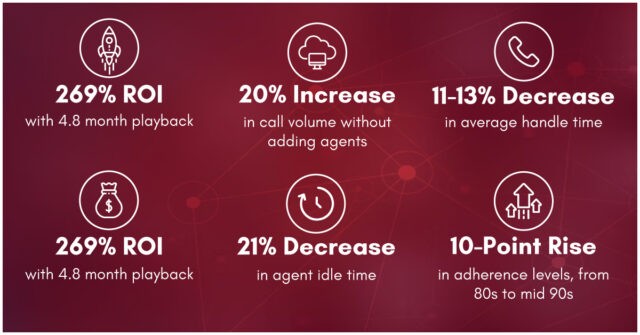 "Ninety percent of our current business is inbound, and we cannot do it without Genesys. We are technology leaders in our industry, thanks to new capabilities gained through Genesys Cloud CX."
– Henry Svendblad, CTO, Company Nurse
Going beyond the phone to serve customers
Company Nurse is an ally in workplace injury management, who guides companies through the challenging and time-consuming process of filling up incident reports and attending to information requests. Its registered nurses are on call around the clock to handle workplace injuries and initiate workers' compensation claims as smoothly as possible. Workers who are hurt receive the immediate care they require by making just one call.
Maintaining a high level of engagement with a rapidly changing workforce was one of the challenges Company Nurse confronted. In light of the growing number of millennials and Generation Z workers in the workforce and the increasingly dispersed nature of organizations, Company Nurse needed to establish multiple communication channels for injured workers. If it doesn't, workers receive the attention they require, and the productivity of the business declines. For Company Nurse, this implies missed revenue opportunities. The business recognized the need to modernize its contact center through an omnichannel strategy.
"We had to go where the customers are going, which is beyond the phone channel," said Henry Svendblad, CTO at Company Nurse. "By using Genesys Cloud CX to expand the number of ways to contact Company Nurse — phone, text, chat and beyond — we could improve the likelihood that an injured employee would contact us and increase our ability to capture workplace injuries."
The path to the cloud
An omnichannel experience was not possible for Company Nurse with its prior Mitel system. Setting up IP phones for users was a laborious process, and maintaining the legacy on-premises system was expensive. And metrics were an issue.
Company Nurse lacked efficient means of organizing its data into customizable reports and measurable KPIs, as well as real-time visibility into contact center operations.
As Company Nurse evaluated solutions, Genesys Cloud CX was the best option because of its innovative digital and workforce engagement management (WEM) services to open public APIs to a marketplace for third-party integrations. The cloud-based, omnichannel contact center product offered a superior user experience, reduced maintenance, and combined all the features Company Nurse desired in one product — an easy-to-manage WebRTC front end, an Amazon Web Services backend that enabled HIPAA compliance, real-time reporting, and unified communications and collaboration.
"Built-in omnichannel and workforce engagement capabilities, plus an open API architecture for simple integration and development opened up possibilities we couldn't get with another vendor, but what set Genesys Cloud CX apart was the configuration and orchestration across these components, creating an effortless experience for everyone," said Svendblad.
Innovating with Contact Center as a Service
Within a few weeks, Company Nurse implemented Genesys Cloud CX for email and phone. Along with proactive contact functions like push notifications and outbound dialing, it is gradually introducing more channels, including SMS, social media, and web chat (with click-to-dial functionality).
Genesys Cloud CX fits well with the innovative service model at Company Nurse; the company employs atypical agents who work outside of traditional contact center operations. The initial injury report is taken by its Injury Care Coordinators (ICCs). After that, calls are forwarded to a licensed nurse who specializes in triage. She assists injured workers in minimizing their discomfort and determining the necessary level of care: self-care, non-emergency, or an ER visit.
"Genesys Cloud CX is a beautiful, reliable tool that creates a positive experience for both our agents and our customers," said Svendblad. "There aren't too many instances where you can have a positive impact on every stakeholder in the process. With Genesys Cloud CX, we do."
With a valuable service that demonstrates compassion for their injuries, the cloud-based solution guarantees that injured employees reach the point of care as soon as possible. Companies can also control insurance rates by only filing necessary claims. Additionally, there are no paperwork mountains for managers or HR departments to handle.
Simple, seamless integration delivers competitive advantage
Company Nurse was able to allocate development resources to initiatives with greater potential impact by using a composable all-in-one product. Genesys Cloud CX's extensibility capabilities make it simple for the company to swiftly interface with other cloud-based apps.
Using the platform's open APIs, the development team created an integration within the first month to link from a Genesys Cloud CX interaction to the incident record in the triage system, Enspiri. Along with improving agent productivity, the integration streamlines robust reporting and makes it easier to instantly distribute reports to the right stakeholders, including internal HR and risk departments, third-party attorneys, and insurance companies.
To capture injury data in the field, Company Nurse leveraged APIs to build a self-service risk management app. Using their mobile device, workers can begin the process of reporting injuries and then immediately engage the contact center. All of this expedites the intake process and considerably enhances the worker experience.
"Genesys Cloud CX is a building block," said Svendblad. "It's one of the foundations that our services are built on."
Using the Genesys Cloud CX platform, Company Nurse developed Lintelio, an innovative digital screening and triage guidance solution, in response to the COVID-19 pandemic. With the development of Lintelio, a new company, organizations may now proactively manage the health and safety of their workforce. It has completed 100,000 weekly health transactions for over 100 organizations at 700 locations and added 33,000 active users in less than a year.
Company Nurse via the AppFoundry® Marketplace was able to access third-party integration options like Brightmetrics. Company Nurse has had easy access to Brightmetrics analytics and data visualizations to generate reports and dashboards that will assist the team as a whole. Its commitment to transparency is reaffirmed by the broad visibility to Company Nurse teams and their clients, through these published customized dashboards.
Additionally, the business performs intake and triage via web chat and SMS messaging using open APIs. Encouraging employees to initiate text conversations with agents can boost injury reporting, facilitate employee validation, and maintain an efficient intake process.
"We are technology leaders in our industry, thanks to the composability of Genesys Cloud CX," said Svendblad. "Our contact center technology allows us to differentiate faster and adapt to change easier — spinning up innovative capabilities to help sell to new customers and better serve existing customers."
Real-time KPIs improve quality, workforce management
The previous system at Company Nurse offered limited insight into the KPIs that guided the company's operations. Teams have proactive opportunities to self-manage, optimize, and change parameters that affect customer service with Brightmetrics' real-time data and automated reporting. A team can adjust real-time alerts for dropped calls or maximize the duration of a call before it is sent to overflow. As a result, the team can increase its call capture rate without compromising service quality.
According to Svendblad, day-to-day improvements like these have made it easier and more rewarding for managers and teams alike.
Additionally, Company Nurse actively monitors and enhances the performance of two production queues, where agents handle over 500 interactions daily, using Brightmetrics real-time analytics. Agents are rated based on quality and efficiency KPIs on a Brightmetrics Agent Report Card.
Real-time adherence, intraday monitoring, built-in artificial intelligence-powered forecasting and auto-generation of schedules are delivered through native Genesys Cloud CX Workforce Engagement Management functionality and Brightmetrics. When it comes to building and managing a balanced scorecard, what had taken several hours a week of manual work in an Excel spreadsheet is now automated.
"The user experience with Brightmetrics is the clincher. When we show employees the tool, they just pick it up and start dragging and dropping fields and scheduling reports. That makes me smile." – Henry Svendblad, CTO, Company Nurse
Utilizing the Genesys Cloud CX solution, the company achieves equilibrium and guarantees more effective staffing. According to Svendblad, by lowering the AHT, the Brightmetrics balanced scorecard has acted as a catalyst for agent efficiency. ICC agents have lowered handle times by 11%. And RN agents reduced handle times by 13%.
"Genesys Cloud CX Workforce Engagement Management is a significant step up in sophistication in how we not only schedule and forecast our volume but also in how we hold our agents accountable in adhering to those schedules," said Svendblad.
Lifting the IT burden
The Genesys Cloud CX solution also minimized complexity at Company Nurse, easing the burden on IT. The company deployed Genesys Cloud CX Communicate seats for business telephony. This allowed them to use the product as an all-in-one application for both Unified Communications as a Service (UCaaS) and Contact Centre as a Service (CCaaS), which eased IT management.
Previously, Company Nurse depended on a third party for almost all system additions, moves, and modifications. The majority of the updates are now managed internally, saving thousands of dollars in additional expenses and improving the experience significantly.
The Genesys Cloud CX Communicate solution also empowers the work-from-home model; all that's needed is a decent web connection for the remote agent to make and take calls via a WebRTC-powered softphone.
"It just works — and it works well," said Svendblad.
In the past, Company Nurse used to have more than 300 queues, one for each incoming phone number. Every queue needed to have even the smallest change made. The company combined into two production queues on the Genesys Cloud CX platform: one for ICCs and another for nurses. This makes it easier to adjust settings to maximize the number of calls that are captured and to keep an eye on key metrics to guarantee a positive outcome.
The commitment of the Genesys team also makes innovation possible. Company Nurse developed a custom interaction script that lets agents quickly transfer a call from one queue to another. After an ICC takes a call, the script pops up to allow the agent to select the appropriate state for that employer. With the click of a button, the agent can transfer the call to a nurse licensed in that state.
"We posed a challenge to Genesys that they met and exceeded," said Svendblad. "They're not just a vendor, but a partner who has helped us to execute our customer experience strategy far beyond the initial implementation phase."
Reaching record call volume without adding staff
Company Nurse has had record call volume since implementing Genesys Cloud CX, up 20% year over year. At first, managing this increase with existing staff produced record revenue. The company has reduced the volume of calls handled by its third-party overflow partner by implementing callback queues, resulting in an expected annual savings of $50,000. An independent study discovered that Company Nurse had a 269% ROI with a 4.8-month payback due to the overflow call savings and increased efficiency.
"Take one small thing like callback queues and that's real savings," said Svendblad. "What we've done with our contact center is transformative in the industry and we're just scratching the surface. I expect to see continued success around business growth, stakeholder satisfaction, efficiency and cost savings."
Bookmark this page for more inspiring success stories that will impact the way you offer outstanding patient experience.
For any further inquiries, contact us at [email protected].
Source: Company Nurse, Better experiences and ROI with composable CX