TL;DR – Know how the OrbitaASSIST and ServiceNow mobile app seamlessly enhanced the nurses' experiences by helping them to react & respond to patient requests more quickly.
OrbitaASSIST & ServiceNow Mobile App: Enhance Your Nurses' Workplace Experiences
In the healthcare sector, time is of utmost importance. Quick, proactive actions can enhance treatment results and save lives. However, hospitals are under increasing pressure to reduce costs while maintaining the quality of care and the patient experience.
The healthcare system as a whole, including hospitals, is fortunately able to face this challenge owing to modern technology like voice and mobile apps.
An opportunity to combine AI, automation, and mobility to help nurses respond to, prioritize, and escalate patient requests more quickly has recently been discovered by a team in Sydney, Australia. This will improve the experience for patients, nurses, and other healthcare professionals.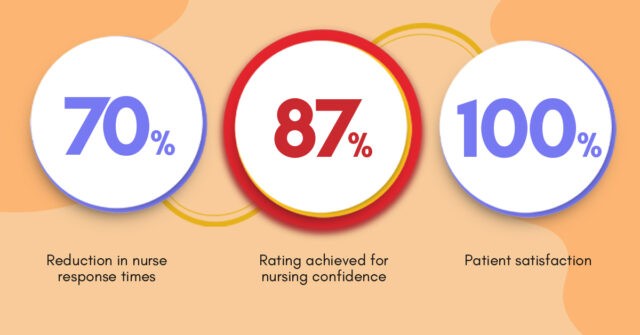 "We initially met with an Australian hospital chief executive with whom we had a good relationship to see if there was a problem that needed to be solved," says Nick White, Principal and Co-Creator, OrbitaASSIST and Executive Vice President, Patient Care Solutions at Orbita. "The chief executive brought 20 nurses in and we workshopped and matured the idea."
A Smart Solution
OrbitaASSIST, a solution that combines smart speakers like the Amazon Echo, to enable patients to state requests verbally rather than press call buttons; task creation and automation through ServiceNow; and workflow automation through mobile updates delivered to shared smartphones used by nurses in hospitals, was created based on suggestions and the expertise of the team. The app was developed specifically on ServiceNow, and the Now Platform was used to create the custom tables, logic, and workflow of the app.
To complete builds and incorporate new features, the team collaborated with the ServiceNow mobile product management team and allocated one lead mobile developer to the solution. Following that, the organization conducted significant internal testing.
"The solution enables nurses to acknowledge to patients they have heard their requests and are on the way to help," says Nick. "Nurses also know exactly what a patient is asking for and can respond appropriately."
A crucial advantage for nurses working at the highest levels of training and qualification, known as "top of license," OrbitaASSIST, built on ServiceNow, also allowed nurses and shift supervisors the capability to route or escalate tasks to more suitable hospital professionals.
100% Acceptance
The response from patients and nurses in the hospitals that piloted OrbitaASSIST was highly favorable, and every patient surveyed stated that they would love to have the solution in their room if they had to visit the hospital again.
Additionally, nurses have the necessary tools and knowledge to resolve the situation because they arrive at the hospital bedside fully aware of patient requests. In actuality, 87% of nurses reported feeling more assured in their capacity to respond to patient requests in a suitable manner.
The average response time of nurses to patient requests has decreased from 11 minutes to 3 minutes because of the ServiceNow-powered mobility component of the solution, with significant benefits for both parties.
"There is documented evidence that releasing time-to-care for nurses reduces mortality rates in hospitals, length of patient stays, and nurse burnout rates." – Nick White, Executive Vice President, Patient Care Solutions
The team identified an opportunity to upgrade the mobile app integral to OrbitaASSIST, after the initial deployment.
Utilize ServiceNow® Mobile Studio: An Upgraded Mobile Experience
In the most recent version of the Now Platform, ServiceNow has improved its mobile capabilities. To better understand the requirements and problems related to mobility that OrbitaASSIST was facing, the ServiceNow product team met with the Orbita team.
A mobile app's development and deployment is often a large undertaking that requires considerable effort. Typically, developers are required to write code for a variety of operating systems, such as iOS and Android, as well as perform testing, maintenance tasks for operating system upgrades, and app store deployment. However, the parties decided to use ServiceNow® Mobile Studio—an interface that allows developers to work on custom apps in a centralized location— to construct flows and iterate after field testing and compiling feedback. To launch a captivating, native experience, all the developers had to do was configure panels with data in the ServiceNow mobile platform. In about six weeks, the team and ServiceNow went through the list of requirements and created a unique, entirely native mobile app.
The key benefits of the app include functionality that enables nurses to check in and out of shifts and view and reply to requests straightforwardly and intuitively.
"With the new app, nurses can view the requests they need to respond to without scrolling or searching, and the location of the patient that made the request," explains Nick. "They can also receive prioritized push notifications that allow nurses to respond to requests in real-time, based on the priority and urgency of each request, as well as seamlessly adding and closing tasks."
Faster and Optimized
"The key difference is the performance and experience of the nurses using a native mobile app from ServiceNow," adds Nick. "The app is faster and optimized for the form factor of the devices they are using—it is simple and specific to the functions nurses need."
Rise of New Possibilities: ASSIST with Orbita
According to Nick, Orbita has identified a range of opportunities to improve the functionality of the product. "The Orbita platform is focused on low-code/no-code conversational design and management—and serving that content up to any natural language interface," he says. "This includes smart speakers, chatbots, web chat, and even analogue phones."
Nick continues, "OrbitaASSIST operates on the Orbita platform and the Now Platform, and while the incubation stage had cracked the opportunity for nurse calls facilitated by voice, Orbita's multimodal nature and evolving technology in natural language processing and conversational AI presented new opportunities."
ServiceNow: The Core for OrbitaASSIST
ServiceNow is expected to remain core to the digital workflows triggered by voice interactions in OrbitaASSIST. As a central information system for workflow and activities, ServiceNow's role at Orbita is being expanded. This includes determining whether data feeds from additional devices can be included and whether analytics can be utilized to support predictive care.
The organization wants to expand its application to provide a unified view of nurses' duties and responsibilities and improve the user interface and experience of its app by utilizing the latest ServiceNow mobile products. OrbitaASSIST is assisting in extending ServiceNow into the front lines of healthcare organizations under the direction of the Orbita team. "Together, Orbita and ServiceNow will work to extend the use cases applicable for care workers, creating the future of work for these roles," Nick says.
"Overall, OrbitaASSIST—powered by ServiceNow—packages our intellectual property and allows our client base to use the lessons we have learned from hospitals and healthcare systems around the world to deploy a solution that transforms care for patients and the experience for nurses," concludes Nick.
Bookmark this page for more inspiring success stories that will impact the way you offer outstanding patient experience.
For any further inquiries, contact us at [email protected].
Source: Orbita transforms nurse and patient hospital experiences with ServiceNow