TL;DR: Know how MoneyGram leverages the NICE CXone Guide to provide contextual support, guided assistance, and real-time agent connect options for difficult engagements.
CXone Guide: MoneyGram Powers Digital Transformation
MoneyGram, a company that offers financial services such as money transfers in more than 200 countries and territories, required a contextual help solution for its website that would be effective for users and simple to deploy and maintain from a technical standpoint. MoneyGram expanded its partnership with NICE by implementing NICE CXone Guide to streamline transactions, better market its loyalty program, and lessen dependency on IT to address day-to-day business challenges in 35 countries and 14 languages.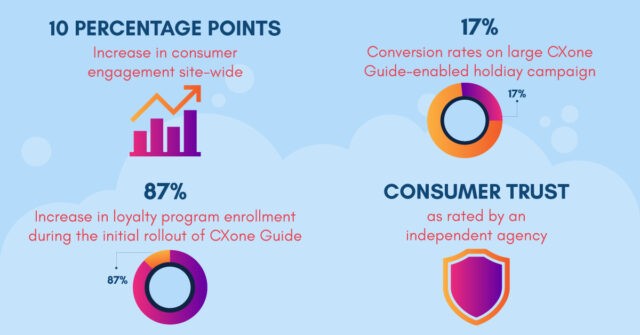 Innovate, Engage, and Grow: The Power of Customer Engagement
01 THE BEFORE
New strategies for familiar services
As a financial services company, MoneyGram balances the need to combat fraud and adhere to regulations while focusing on user convenience and streamlined interactions. MoneyGram provides convenient guided paths through these essential transactional steps to minimize friction whenever possible.
MoneyGram's website needed to undergo a significant overhaul as part of its digital transformation strategy. As the company evolved, the leadership advocated for considerable growth in enrollments in loyalty programs with the dual objectives of enhancing customer retention and increasing revenue.
02 DESIRE TO CHANGE
A need for intervention
Following the launch of the new website, MoneyGram noticed a need for additional contextual help to guide consumers through friction points of the transfer process to cut down on support calls and boost conversions. The upload of necessary government ID documentation constituted a major impediment. As a result, the number of customer support calls increased, and the company decided to improve the customer experience to reduce potential attrition.
MoneyGram's web team discovered by examining the transaction abandonment patterns that contextual, multilingual help could assist consumers in overcoming obstacles, but there was no apparent way to implement a contextual help solution.
"Our development team was backlogged with our digital transformation and the launch of new technologies," said Cyndi Daman, MoneyGram global web manager. "It could be months down the line before we could get additional help to our consumers through internal development.
03 THE SOLUTION
A familiar partner at the ready
MoneyGram expanded its partnership with NICE and implemented the CXone Guide to avoid lengthy delays and the negative effects they would have on revenue, customer loyalty, and call volume.
"When we saw that CXone Guide offered contextual assistance at the point of interaction with proactive messaging, we knew it was a perfect fit," Daman said.
The initial deployment just took a week. The marketing and product teams at MoneyGram worked hard to design and execute new help modules. These targeted, timely interventions ease consumers through previously recognized transactional bottlenecks. The design tools in the CXone Guide make it simple to produce step-by-step instructions that follow consumers through the new web experience.
Additionally, contextual guidance has also been extended not just merely in sticky situations, but to share the value of MoneyGram's loyalty programs at opportune, strategic moments. For instance, along the transaction journey, the program's benefits for both current and future transactions are shared, increasing awareness of the importance of signing up right away.
04 THE RESULTS
A helping hand reaps rewards
MoneyGram has maintained its performance owing to the expanded contextual help options provided by CXone Guide. MoneyGram is better able to respond to sudden shifts in demand for its services as acute needs arise around the world, such as the interest in helping citizens of Ukraine, in addition to addressing the headline challenges of easing the path through essential fraud-prevention steps such as ID verification.
Long-term business objectives have benefited from contextual messaging as well. Targeted, context-sensitive promotional messaging based on cultural holidays has significantly increased sales, and enrolment in loyalty programs has increased in line with management goals.
The business team at MoneyGram can also use the context-sensitive CXone Guide solution. Localizing messages is not simply a matter of translating an English instruction into French. The methods for authenticating documents and acceptable forms of identification vary depending on the industry. To provide customers with information that is pertinent to both their linguistic demands and the requirements of their jurisdiction, CXone Guide has assisted in keeping these procedures organized and transparent.
Additionally, the web team has greater independence and agility.
"No longer having to rely on IT to update our messages is huge for us. Instead of being tied to the IT roadmap and release schedule, my small team can manage that quickly and effectively, without adding overhead," Daman said.
05 THE FUTURE
Ready for the next wave of transformation
MoneyGram has vastly expanded the use of CXone Guide since its initial implementation in 2020 and is looking at new potential, such as including a more context-sensitive FAQ and extended contextual messages for all site visitors, not just those actively engaged in a transaction. The site redesign will also take into account the new emphasis on contextual messaging as the company prepares to enter the next chapter of its digital transformation.
"My big focus when we redesign will be to look for additional trigger points for CXone Guide so that we can be even more interactive and personal with our consumers," Daman said.

"NICE CXone Guide goes beyond chat. You can provide additional details, you can trigger messages based on customer interactions, and get very specific and very detailed right when the customer needs you."
CYNDI DAMAN – GLOBAL WEB MANAGER, MONEYGRAM
Bookmark this page for more inspiring success stories that will impact the way you offer outstanding customer experience.
For any further inquiries, contact us at [email protected].
Source: MoneyGram powers digital transformation with contextual help from CXone guide