TL;DR: Know more about the ITSM transformation of SVMHS: How they switched to a better tool and never looked back!
Salinas Valley Memorial Healthcare System (SVMHS) is a district healthcare system with headquarters in California that includes 15+ multispecialty clinics for women's health, orthopedics, primary care, and more.
The hospital's 300 board-certified doctors and 2000+ staff members are devoted to enhancing the quality of life for residents of the Salinas Healthcare District and the surrounding area. Every year, SVMHS provides care for more than 600,000 patients. SVMHS is working on transformational projects, such as creating a robust Epic Ambulatory system and updating its IT Service Management (ITSM) tool, in an ongoing effort to enhance the lives of patients.
There are 85 agents on the IT support team who provide support services around the clock. Before this, SVMHS had employed a BMC Remedy service desk system to consolidate the tickets from several departments. The IT department got 1,200 tickets every month on average, ranging from requests for hardware, password resets, and security system concerns to remote access. To resolve their IT issues, patients, medical professionals, and staff contacted the appropriate helpdesks via emails and phone calls. The BMC Remedy solution assisted the IT staff in managing incoming tickets, but SVMHS encountered difficulties as it tried to scale and expand.
The ITSM Journey of SVMHS: From Struggle to Success
For SVMHS, the service desk by BMC Remedy was burdensome and did not help the hospital achieve its strategic objectives of providing high-quality care.
Primary issues of Previous IT Service Desk
| | |
| --- | --- |
| Constant maintenance – The IT team spent more time maintaining the tool and feeding information into it, leaving limited time for handling urgent medical requests. | Inconvenient tool – Due to the tool's complexity and lack of mobility to support the mobile workforce, the telecommunication and network teams of the hospital had a difficult time using it. |
Additionally, the IT team was tasked to manage service delivery to their clients, both internal and external, while optimizing the solution. Monitoring and supporting existing SLAs was challenging as well.
The ITSM transformation of SVMHS
To embrace digital transformation, Audrey Parks, the CIO of Salinas Valley Memorial Healthcare Systems, was searching for a new ITSM solution with the following specifications: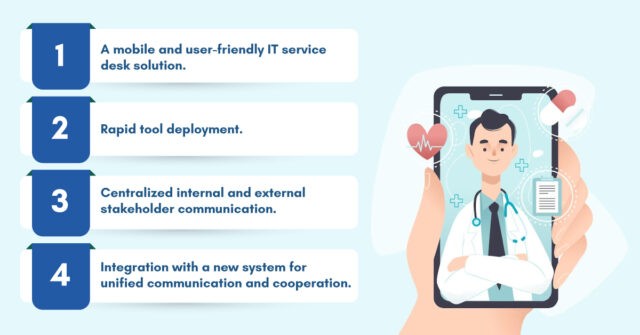 Freshservice was chosen by Ms. Parker and her team as the best solution for satisfying the IT requirements and expectations of the hospital after they evaluated several ITSM providers on the market.
Freshservice: The ITSM solution that made SVMHS a Healthcare Leader
With automated workflows, Freshservice empowered the IT team to have better visibility into service requests. Additionally, improved support visibility and coordination across IT and Ambulatory Informatics were achieved because of the successful incorporation of the Ambulatory Informatics helpdesk into Freshservice. This integration was especially crucial following the 2019 merger of the SVMC network with SVMHS.
Upon seeing the help desk's success with Freshservice, additional IT groups ranging from Networks & Operations to the IT Systems Security team, implemented Freshservice in an effort to reduce operational costs and speed up time to value. SVMHS benefited from flexibility and customized solutions from Freshservice's Information Technology Infrastructure Library (ITIL) aligned service desk. Because of Freshservice's ease of use, end users are now more likely to employ self-service, which has decreased the need for traditional channels like phone calls and emails for submitting requests.
"The management is very excited about Freshservice. IT now works better and delivers excellent results more efficiently"

– Audrey Parks, CIO, Salinas Valley Memorial Healthcare System.
Continuing with Freshservice
Since the majority of their patients and administrative staff prefer to submit service requests over the phone, the IT team soon wants to enable phone integration with the service desk portal. They also want to make sure that Salinas Valley Memorial Healthcare System keeps providing patients with top-notch patient care through continued implementation and optimization of Freshservice.
Follow us for more inspiring success stories that will change the way you deliver high-quality patient care.
Reach out to us at: [email protected] for more information.
Source: Salinas Valley Memorial Healthcare System (SVMHS) transforms its IT service desk to offer quality patient care services with Freshservice