Can't Read, Won't Buy
The demand for multi-language support is on the rise. A recent study showed that 40% of consumers say they would not buy from a company that doesn't offer customer support in their native language.
Your consumers will report a better customer experience if you communicate with them in their own language. It's that straightforward.
Customers who don't feel comfortable communicating in the local language may be put off from making a purchase or even engaging with the company. As the world becomes more connected, businesses must be able to provide an exceptional customer experience in multiple languages.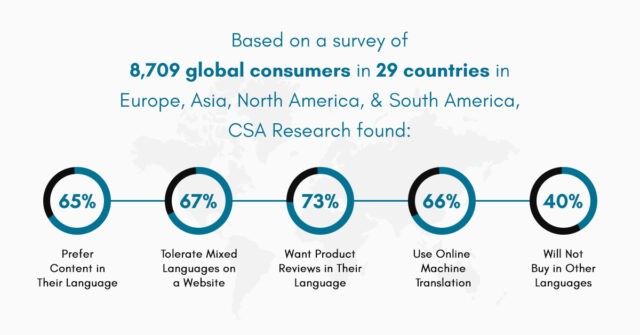 So, Why Provide Multilingual Support?
For a smooth customer experience across cultures, offering multilingual customer support is crucial. Multilingual support will help you get the competitive edge you so desperately need in today's economic climate.
Level-up your Omnichannel CX with multilingual support:
Increase client loyalty and satisfaction

Achieve better conversion rates—for unsure buyers, pre-purchase support can make the difference.

Higher

CSAT

scores and increased net promoter scores (NET) 

Get an in-depth awareness of consumer needs and feedback which is important for product development.
What Language are Your Customers Speaking?
It doesn't matter because we can help you speak the language of your customers. 
We can help you get started with Freshdesk, a Multilingual service desk, which is perfect if you are serving customers globally.
Freshdesk is powered by Automatic language detection. Freshdesk identifies your customers' preferred language and saves it under contact details based on just a few initial interactions. Here is the complete list of languages supported by Freshdesk, so you can go past the language barrier.
| | | | |
| --- | --- | --- | --- |
| Arabic | Bosnian | Bulgarian | Catalan |
| Chinese | Chinese(Traditional) | Croatian | Czech |
| Danish | Dutch | English | Estonian |
| Filipino | Finnish | French | German |
| Greek | Hebrew | Hungarian | Icelandic |
| Indonesian | Italian | Japanese | Korean |
| Latvian | Lithuanian | Malay | Norwegian |
| Polish | Portuguese (BR) | Portuguese/ Portugal | Romanian |
| Russian | Serbian | Slovak | Slovenian |
| Spanish | Spanish (Latin America) | Swedish | Thai |
| Turkish | Ukrainian | Vietnamese | |
But That's Not All!
You can do so much more to support your international customers while still maintaining high standards for customer support.
1. Dynamic email notifications
Customize your automated email notifications corresponding to your customers' preferred language. For example, if a customer's profile language is set as French they will get email notifications and alerts in French. On the other hand, a Spanish-speaking customer would be notified in Spanish only.
To dynamically notify customers, in their preferred language, add the list of languages through which you will be supporting users. You can then edit the notification content for each language.
Read more about Dynamic Email Notifications: https://support.freshdesk.com/en/support/solutions/articles/170407
2. Multi-language customer satisfaction surveys
Sending out customer feedback surveys in the language they best understand is an excellent way to increase survey response rates. This way, your customers will also find it easier to provide feedback for your company's support. The customer satisfaction surveys in Freshdesk can be translated entirely to match the preferred language in the customer's profile.
Read more about Multi-language customer satisfaction surveys:
https://support.freshdesk.com/en/support/solutions/articles/50000000119-localize-your-feedback-forms-with-multilingual-customer-satisfaction-surveys
3. Set up a multilingual knowledge base
When you have customers from around the world, a multilingual knowledge base can help you support all of them with ease. With multiple languages available on a single portal, it's easy to collaborate. Plus, language-specific meta tags help you find the content you need in seconds.
With Freshdesk, your portal can automatically detect and load in a customer's preferred language (based on either their login or browser preferences) to help the customer find what they are looking for instantly.
Read more: https://support.freshdesk.com/en/support/solutions/articles/219745-setting-up-a-multilingual-knowledge-base
Conclusion
The bottom line is that you need to start thinking about multilingual support if you haven't already. It is the only way to scale your customer support operation. The international market presents a unique opportunity for businesses that are prepared to invest in excellent customer service across multiple languages.
With the right customer service management tools and resources, you're bound to see a rise in your customer retention rate, boosting sales, and revenue.
Reach out to us at: [email protected] and we'll work with you to create a CX strategy that you can benefit from.