TL;DR – Learn about the practical & patient-inclusive communication strategies to enhance patient experience throughout the entire healthcare journey.
The effects of COVID-19 caused a significant and rapid transformation in the healthcare industry. The demand for digital healthcare services increased so rapidly during the pandemic that several hospitals and healthcare providers were unable to fulfill the volume of patient requests using conventional means like phone and in-person assistance. Therefore, healthcare organizations had to find practical solutions to enhance patient communication and accelerate the implementation of digital healthcare technologies.
Despite significant improvements achieved during COVID-19, improving patient communication still presents fresh challenges for the healthcare industry. This blog delves deeply into those challenges and offers transformative solutions by Freshdesk.
Patient Communication: Missing Piece of the Healthcare Puzzle
Effective communication is a crucial part of quality patient care.
Regular communication between healthcare organizations and patients is necessary to schedule and confirm appointments, deliver test findings, and more. Therefore, every communication must be sent to the right patient at the right time. With the introduction of various digital communication technologies in the industry, healthcare providers must prioritize accuracy and coordination.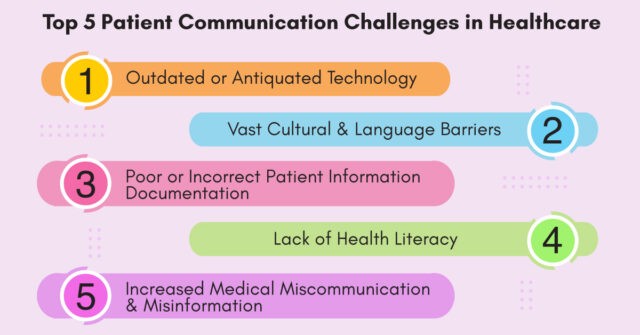 Freshdesk: Ensuring Seamless End-to-End Patient Experiences
Freshdesk, a multilingual service desk, is powered by automatic language detection. Based on just a few initial encounters, Freshdesk determines your patients' preferred language and records it under contact information. All notifications issued to the patient/requester in the future will be in the language of their profile if the patient's language is supported by the helpdesk.
This enables healthcare providers to positively impact patient understanding, compliance, satisfaction, and safety, and ultimately delivering a seamless patient experience.
Freshdesk: Multiple Stakeholders On the Same Page
Oftentimes, the same patient receives information from several departments. If they all communicate independently, there are high chances of unnecessary and costly effort duplication. Additionally, a patient may experience needless confusion if they are unsure of the most recent communication or, even worse if they receive contradictory messages.
By coordinating the production and dissemination of messages, centralizing communications might address both challenges.
How to Streamline Patient and Internal Communication?
| | | |
| --- | --- | --- |
| Standardized Handover Protocols: Implementing consistent handover guidelines can boost communication effectiveness among healthcare providers, resulting in a reduction in adverse events. | Electronic Health Records (EHR): Introducing electronic health records (EHR) can improve the efficiency and accuracy of exchanging patient information. EHR systems empower healthcare providers to promptly access and update patient records, promoting effortless care coordination and error reduction. | Team-Based Care Models: Team-based care involves delegating tasks to different members of the healthcare team, to improve efficiency and patient outcomes. |
Patient Communication: the Key to Unlocking Better Health Outcomes
By centralizing communications, silos of information and data are eliminated. Data, including patient contact information and channel preferences, are combined with messages, like letters or appointment reminders, and final communications are therefore sent via the preferred channels.
In this manner, channel preferences are met, and the updated patient data is utilized. This facilitates a better end-to-end patient experience by ensuring vital communications are received, read, and actioned throughout their entire patient journey.
Yes, we are aware of the new & potential patient communication challenges, therefore let us assist you on your journey to deliver consistent seamless patient experiences.
Reach out to us at: [email protected] for more information.