Agent Productivity and its Impact on Customer Service Response Times
Nowadays, we are aware that businesses utilize various real-time communication channels. Mostly to streamline transactions and strengthen their relationship with consumers. No matter which channel they use to contact the business, support agents are under immense pressure to provide consumers with quick and informed assistance. Therefore, by equipping service reps with the proper tools and technology, the company is able to deliver consistent and excellent customer service.
This blog exemplifies why with interactive ticketing, advanced automation, seamless self-service, and much more — all for a reasonable price – Freshdesk makes providing customer service a breeze.
Keep Customer Conversations from Falling Through the Cracks
Ticket management in a Helpdesk management system enables the business to create a log, maintain, keep track, and resolve customer issues from a single and unified interface. Every helpdesk solution has a built-in ticketing module that ties all the customer issues, originating from different sources to ensure Service Level Agreements (SLA) compliance. By organizing all the queries, agents are able to respond quickly and promptly to them.
Freshdesk is omnichannel and allows you to receive customer issues from numerous communication channels, thus converting them to tickets. After which, it prioritizes, categorizes and assigns them to the right agent. Freshdesk ensures that agents are vigilant about their tickets and are working in collaboration with various teams to resolve customer issues timely & efficiently while guaranteeing high-quality customer experience.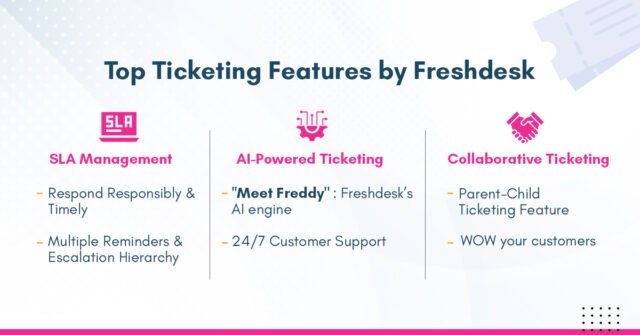 Here are some of our favorite Ticketing Features, provided by Freshdesk.
SLA Management: An SLA Policy (Service Level Agreement) is your time commitment to your customers within which your team is expected to respond to the tickets and resolve the issues. In Freshdesk, the SLA functionality makes sure that your team responds to each issue within an agreed timeframe.
Different issues, different targets:

In a helpdesk, every type of issue/customer is different and thus the resolution time varies as well. With Freshdesk, you can set different sets of policies matching the different types of customers, sources of tickets, types of tickets, etc.
No Slip through the cracks:

By setting up

multiple reminders and escalation hierarchy

, you can make sure that every time, in case of an SLA breach, the right people get notified at the right time.
Real Insights: Freshdesk's Reporting and Analytics

feature provides

live dashboards

and

historic reporting

that empowers you to keep a tab on your team's SLA adherence.
AI-Powered Ticketing: Freshdesk's AI engine – "Freddy"  provides faster resolution without compromising on the human element. It comes with a No-Code bot builder, which is leveraged to deploy smart customer-facing as well as agent-facing chatbots in minimal time. This helps take your business to newer heights. Some of its key features are:
Automatic classification of tickets: Through an NLP engine (Natural language processing), Freddy can read a ticket and can automatically route it to the right team or agent. AI and machine learning have the capabilities to provide customer service with unparalleled speed and accuracy.
Customer service around the clock:

Deployment of an AI-enabled chatbot ensures the

availability of 24/7 customer support

without any breaks.
 

Personal assistance to every agent: Freddy's Agent facing AI helps your agents to dedicate their time to delight customers instead of attending to mundane and repetitive tasks. Features like Assist bot, Auto triage, Robo Assist, and Auto article suggester provide support agents with the right guidance.
Collaborative Ticketing: Freshdesk helps you create an environment where your team members work together to provide a "WOW" service experience to your customers.
Freshconnect:

Freshconnect lets your agents discuss issues relating to a particular ticket from within Freshdesk. Your agents can

communicate with other team members

or any other external stakeholders to

resolve tickets faster

.
Shared Ownership:

This feature enables agents to

share ticket ownership

without losing its visibility. Using the shared ownership feature – team members of various teams can

work simultaneously on the same ticket

and also be in the loop regarding every update of the ticket with

clear ownership

of the customer support agent on the ticket.
Parent-Child Ticketing:

It's always a better idea to divide a task into smaller tasks. The

parent-child ticketing feature

allows a ticket to be split into smaller tasks (child tickets) and multiple teams can work in parallel on their respective smaller tasks. The (parent) ticket can only be resolved when every team accomplishes the respective tasks (child tickets) assigned to them.
Can Ticketing Systems Really Affect Customer Satisfaction?
Ideally, a key factor that affects whether customer satisfaction is high or low is the speed at which tickets are resolved. As a result, your help desk staff and customer support agents must prioritize the completion of all their tickets.
Leveraging the right ticketing system for your company gives agents access to the records of every customer interaction. Therefore, they always have the data at hand to deliver a smooth customer experience. It's crucial to eliminate the need to keep posing the same questions to your customers.
Yes, we know that it can be difficult to find the right ticket management software that seamlessly supports your specific ticketing workflows and that's why we are here to help.
Still confused as to how you can leverage Freshdesk's ticketing features to improve your agent productivity and ultimately your CSAT scores? Let us guide you – Reach out to us at: [email protected].