TL;DR: Learn about the different ways healthcare providers can implement key multi-channel patient satisfaction strategies to enhance overall patient experience
Nowadays, patients place the highest priority on convenience and high-quality care.
Potential patients are often found conducting an online search and selecting a hospital that fits their standards before preferring a reputable physician. Since the pandemic, patients can now make appointments through many channels to receive medical care, especially if they live remotely or have serious/infectious diseases. Therefore, the key to a complete transformation in the healthcare industry is to deliver a meaningful and fulfilling patient experience.
Did You Know?
72% of Patients are Willing to Change their Providers to Get a Desirable Care Experience
This blog highlights effective patient satisfaction strategies for ensuring a seamless patient experience and long-term patient satisfaction.
Multi-channel Patient Satisfaction: Bridge the Gap between Healthcare Providers and Patients
On the journey to better & elevated healthcare outcomes, patient satisfaction acts as both a compass and a destination.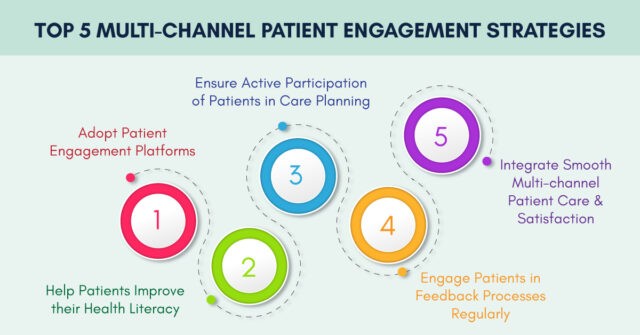 Empower Your Patients through Multi-channel Communication: a Win-Win for Everyone
More than ever, it's crucial for healthcare providers to deliver patients with a positive and seamless patient experience. It improves health outcomes in addition to being the ethical thing to do. And that's a big win for both patients and healthcare professionals.
Adopt Patient Engagement Platforms
Help Patients Improve their Health Literacy
Engage Patients in Feedback Processes Regularly
Integrate Smooth Multi-channel Patient Care & Satisfaction
Patient Portals :  Secure online websites that give patients convenient, 24-hour access to data about personal health.
Digital Communication :  Engage patients by delivering information about their health and financial responsibilities through email campaigns.
Automated Communication :  Using automated SMS communication is an effective strategy for engaging patients and assisting them in addressing numerous requirements and inquiries.
Enhancing Care Coordination : This can be accomplished by harnessing the power of the unified patient view and institutional data.
Efficient Contact Center Interactions :
Video Demonstrations :  Patients can be educated about care management through the use of video presentations.
Chatbots :  For the outreach to achieve its goals, automated engagement must imitate natural, two-way conversations, enabling patients to provide feedback in response to requests. For instance, highly developed chatbots can interact in over 100 languages and mimic natural conversations.
Interoperability :  Interoperability entails the capacity of various information systems, gadgets, and applications to connect, share, merge, and collaboratively utilize data in a synchronized manner, both within and beyond organizational, regional, and national confines.
Electronic Health Records (EHRs) :  Digital records of a patient's medical history, diagnoses, medications, and other relevant information
Language :  Communication and education of patients should be in a language they understand. Ensure transparency and equip patients with user-friendly tools that enable them to make informed price comparisons before receiving care.
Mobile Applications :  Apps that can be downloaded on smartphones or tablets to help patients manage their health and communicate with their healthcare providers
Furthermore, we must emphasize the significance of enhancing patient care coordination strategies through the adoption of appropriate technological frameworks, such as integrated clinical systems, clinical decision support tools, and collaborative platforms.
What's Next?
Adopting a multi-channel patient satisfaction strategy is now more crucial than ever in the modern world when patients can communicate with healthcare providers through a variety of channels. By evolving to ensure quality care for patients whichever they want, healthcare providers may cater to their patients on numerous platforms and guarantee a positive and smooth patient experience that ensures long-term loyalty.
Still wondering how to implement key multi-channel patient satisfaction strategies to enhance your overall patient experience?
Reach out to us at: [email protected] for more information.