TL;DR – Explore the innovative ways that banks are employing data and analytics to reduce risk, increase operational efficiency, and enhance customer experience.
Nowadays, expectations around banking customer service have revolutionized as modern banking customers seem to care a little less about branch locations, account features, or interest rates. Rather, customers now have exceeding expectations about timely, streamlined, and bespoke banking
Did You Know?
55% of CIOs at global banks cite improving client experiences as the top priority.
This blog helps us understand how to retain and delight customers while enhancing the customer experience in the banking and financial services industry.
Elevate your Banking Experience with Data-Driven Strategies
All industries are witnessing an unprecedented boost in customer expectations, and the banking sector is no exception. Individuals no longer contrast their experiences with those of two competitor banks. Rather, they contrast how simple & straightforward their experiences are in every industry.
Customers today anticipate the same degree of convenience, customization, and speed from their banks as they do from their streaming or e-commerce services.
So we know that improving the banking customer experience is crucial, but which areas to focus most on?
Ease in account creation and onboarding
Determine primary business drivers to prioritize customer satisfaction and loyalty
Ensure an intuitive mobile app UX
Provide self-service opportunities
Track end-to-end customer journeys to create a 360o view of every customer
Provide sound financial guidance & education
Solicit and act upon individual customer feedback
4 Ways to Transform Your Banking Experience with Data and Analytics
Data analytics has the power to completely transform the banking industry and create robust, transparent, and trustworthy customer relationships. Here's how implementing Freshdesk can help develop and foster this relationship: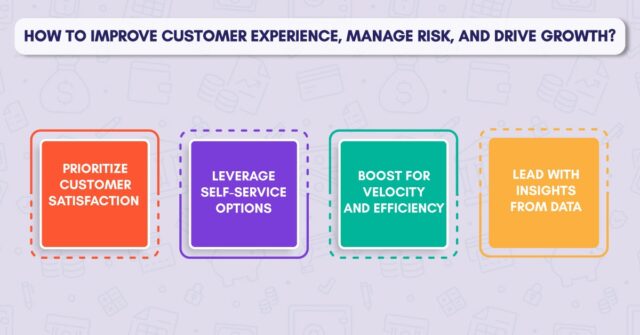 | Prioritize customer satisfaction on a massive level | Leverage self-service options | Boost for velocity and efficiency | Lead with insights from Data |
| --- | --- | --- | --- |
| Effectively participate in personalized conversations to support your customers in tasks such as online form submissions and troubleshooting payment errors. | Publish a customized support portal with FAQs. | Elevate team effectiveness by implementing automation for tasks like assigning queries, tracking progress, and collating feedback. | Identify roadblocks that are affecting customer experience, and continuously optimize operations using live dashboards and advanced analytics to measure progress. |
| Provide access through a variety of channels, including email, phone, live chat, telephone services, social media, and messaging apps. | Implement AI chatbots for seamless, conversation-based self-service. | Accelerate the execution of sophisticated backend tasks, including customer due diligence and financial document validation, using specialized chatbots for agents. | Obtain key insights instantly with out-of-the-box reports |
| Minimize phone call wait times by providing immediate assistance through real-time live chat and instant messaging channels. | Enable one-click support on your website and mobile app using smart widgets. | Optimize support operations and digitally transform traditional banking processes with versatile APIs and over 650 one-click integrations, ensuring security. | Customize the data analysis to suit your needs and assess specific metrics. |
| Expedite service request resolutions with a full-spectrum understanding of your customers. | | | Identify atypical performance data by focusing on individual tickets. |
Revolutionize your Banking Experience with Data-Driven Insights
Although the banking & financial industry has traditionally relied heavily on data, the way banks leverage data and analytics has changed significantly in recent years due to technological improvements and the availability of big data. These days, banks are utilizing data and analytics in innovative ways to reduce risk, boost operational effectiveness, and enhance customer experience.
The increasing application of AI and machine learning is one of the primary ways that data and analytics are evolving in the banking sector. With the use of these technologies, banks can evaluate enormous volumes of data and forecast customer behavior and market trends with greater accuracy.
Are you looking for actionable AI-backed strategies to meet exceeding customer expectations? Contact us at [email protected] and learn how to enhance & deliver seamless CX.