TL;DR – Learn how AI can benefit your healthcare journey and know about the obstacles for the technology to reach its full potential!
Artificial intelligence (AI) integration is one of the main factors driving the current revolution in the healthcare industry. Adopting cutting-edge technologies, like AI, can help achieve positive outcomes by reducing operational inefficiencies, enhancing patient care quality, and reducing overall healthcare costs.
Did you know?
The Healthcare Artificial Intelligence Market is projected to reach USD 44.5 billion by 2026, with a worldwide staggering CAGR of 46.21%
In this blog, we discuss how an AI-driven patient journey can assist healthcare providers in navigating key strategic challenges to deliver a superior and more seamless patient experience.
AI: The Key to Unlocking the Patient Journey Potential
The term "AI-driven patient journey" refers to the use of AI to anticipate patients' needs and preferences, spot potential risks or crises, and offer personalized recommendations for care or treatment.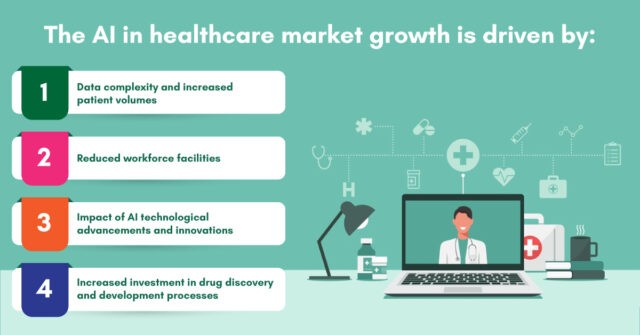 Freshchat: A Solution with Tangible Results
Reaching the right patients and fully understanding the actual patient journey is complex and challenging. Here is how Freshchat can be your go-to solution:
Applying conversational AI tools, such as chatbots, to assist patients in managing their healthcare journey, including the coordination of appointments and procedures in alignment with doctors' scheduling.
This frictionless experience leads to improved patient engagement and an uptick in overall patient satisfaction.
AI-powered Solutions: Re-thinking the Patient Journey
AI in healthcare has the opportunity to transform the way we diagnose, treat, and prevent diseases. The technology could help improve patient outcomes, reduce costs, and increase efficiency in the healthcare system.
However, Artificial intelligence development in healthcare comes with some benefits and challenges.
Benefits
Challenges

Enables healthcare providers and practices to automate tasks, ensuring the team can focus on patient care only.
Increases accuracy and serves as a significant cost savings due to a decline in medical errors.
Enhances operational efficiency and improves patient experience.

Heavy reliance on extensive data to produce practical insights, and the effectiveness of these outcomes hinges on the data's quality.
Managing patient data in a way that complies with legal and regulatory requirements.
The Future is Bright: Embrace the AI-driven Patient Journey
By integrating cutting-edge technological advancements, healthcare organizations today have an opportunity to revolutionize the patient experience. It's time to focus on enhancing patient experiences and streamlining healthcare workflows, ensuring you are ahead of the curve.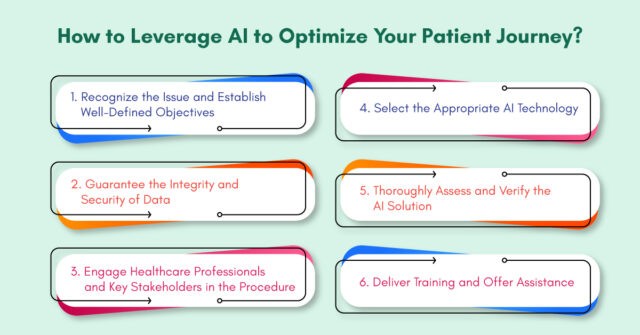 Yes, we are aware of the potential obstacles that might pop up while embarking on a patient journey powered by AI.
Reach out to us at: [email protected] for more information.
Source: Healthcare Artificial Intelligence (AI) Market – Global Outlook & Forecast 2021-2026