It's Time to Bridge the Gap Between Service and Operations Management
It's no secret that modern businesses need to provide smooth & seamless customer service. Backed by empirical evidence, businesses now recognize that offering real-time customer service can positively support & enhance the customers' perception of the quality of service. Therefore, the use of virtual helpdesk agents is a significant advancement in customer service.
In this blog, we understand why an intelligent, right-sized, cloud-native IT Helpdesk software solution is what companies need today. By using intelligent ticketing capabilities and providing a unified service management experience, companies are empowered to create and maintain modern employee experiences.
Utilize Freshservice: a Superpower for Your Company
You are probably wondering how exactly Freshservice may benefit an IT company? We understand and we have the right answer for you.
Well, the short answer is that Freshservice allows IT to manage operations in a single instance and create customized experiences for various departments.
Due to the coronavirus outbreak, remote working has suddenly gained attention. Many IT companies have been posed with a significant challenge: adapting and converting thousands of office-based employees while ensuring the smooth placement of virtual working conditions.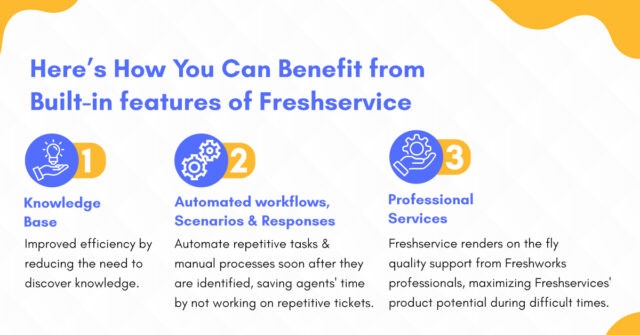 Delightful Service Management Made Easy with Freshservice
Multi-channel support includes support for email, web portal, live chat, and Slack and robust support for mobile users with iOS/Android apps.
Integrations A wide range of integrations with third-party solutions are offered—PagerDuty, Google Apps, DropBox, Slack, and Nagios, just to name a few. Freshservice estimates that it has about 20 fully supported native integrations, along with an API that can extend its reach to well over 100.
Service desk capabilities include a self-service portal; support for incident, request, and knowledge management; easily defined custom reports; IT project management capabilities; and well-realized workflow visualization so that custom workflows can be easily administered.
The Freshservice Self-service Portal is one of the solution's standout features. The portal can serve as a center for IT and customer interaction and knowledge sharing, whether by handling requests, managing incidents, or facilitating change. Its support for video import is useful in training users on new processes and new capabilities. And its support for built-in automation and integrated workflows can also make it a virtual community center to promote improved IT effectiveness. This is one of Freshservice's most popular features, helping to accelerate time to value and enriching service desk value and customer support on an ongoing basis.
Additional ITSM capabilities include problem management, change management, and release management features.

Asset management is another feature of Freshservice, including a service catalog, a CMDB, inventory management, and contract management. Freshservice contract management extends to support software license terms and conditions and is easily administered with a lifecycle approach.
Social gamification in Freshservice is not merely an afterthought, but rather a relatively rich system that can incent ITSM professionals to contribute content to a growing knowledge base with clear parameters for recognition and rewards.
Automation and versatile workflow configuration is yet another Freshservice feature and is supported by a powerful rules engine.
Custom reports offer out-of-the-box value for ITSM data sharing—an area that Freshdesk is continuing to enrich and expand.
DevOps support is surprising in a mid-tier ITSM solution, but it is already fairly advanced in Freshservice. Freshservice's combination of workflow versatility; integration with monitoring tools such as Solar Winds, New Relic, and Nagios; and visibility into public cloud assets is becoming increasingly appealing to a development community too often shut off from core service management processes and insights.
Everyone is on the Same Page, Finally!
Freshservice: A Perfect Modern, Intuitive, and Cost-effective Solution
Freshservice is more than just an ITSM tool. It is an enterprise service management platform where more users can be added and different workflows can be customized for various departments.
Your IT service desk is the center of your company's support operations. It is the first point of contact for end users, the face of your IT department, and a crucial service to maintain the efficiency of your users and business operations. With the help of the seamless implementation of Freshservice, admins can sit back while tickets allocate, categorize, and prioritize themselves rather than spending hours doing so each day.
To know more about CX-integrated solutions that enable companies to simplify their IT operations, visit: https://btrnsfrmd.com/