The 2020 Magic Quadrant for RPA was released by Gartner on Jul 27. It has some expected winners but some interesting surprises too. With over 20 RPA technology existing players and newer players entering each year, there is some dynamic movement amongst vendors.
UIPath and Automation seem to consolidate on the leadership position in the RPA market. They are closely followed by Blueprism (they were one of the first to launch RPA!). Each of them continues to invest heavily in their product roadmaps for AI and Image/Document processing. UIPath and Automation Anywhere have recently raised significant capital to back these continued investments.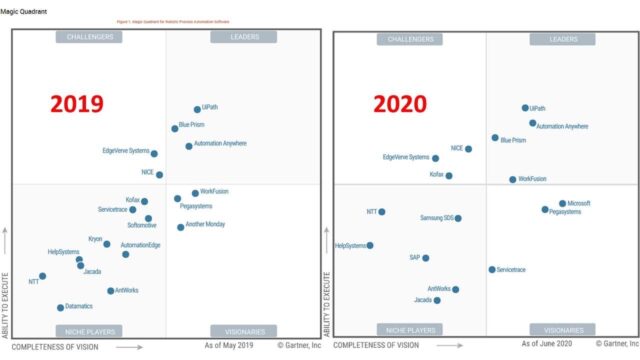 The Biggest surprise in this year's report, is the presence of integrated automation players.
Microsoft, Pega and NICE have made significant inroads through acquisitions and product extensions. Definitely keep a watch out for Microsoft – their Power platform strategy involves building an integrated RPA, Low Code, Data and Cloud automation. Additionally, they are masters of enterprise sales with their massive installed base! It will be interesting to see if and when Google or AWS step up with acquisitions of RPA players and even the field.
What's missing in this report is the absence of low-code players like Appian, one of the best low code development platforms. We are increasingly seeing Low-code players integrate RPA as part of their product portfolio. It makes imminent sense to offer their clients a one-stop-shop to automate business processes and enterprise applications and deploy a seamless CX and user experience.
In Summary, the RPA space is still evolving rapidly – multiple technology platforms with some early frontrunners; and the emergence of an integrated tech stack. Its important for Clients to have a trusted & independent partner who can advise them on the right platform strategy – one that fits their organizational goals and delivers to their identified use-cases.
Schedule a call and learn more about how we can help you navigate this complicated RPA landscape!